February 3, 2020. Moscow-London. IXcellerate, leading operator of commercial data centers and the home of Hypercloud in Russia, is pleased to announce that its Moscow Two datacentre has achieved Tier III Certification of Design Documents from Uptime Institute. The certification ratifies the functionality and capacity evidenced in the market-leading engineering and architectural specifications of the facility design. 
IXcellerate Moscow Two Datacentre was officially opened on October 3rd, 2019. The 12MW data hall has a designed capacity of up to 1480 racks and benefits from more than 50 carriers present onsite.
Guy Willner, CEO and co-founder of IXcellerate, says: "The newly acquired certification underlines IXcellerate's position as the leading carrier-neutral datacentre operator in Russia, both in terms of market share and technology, thoroughly benchmarked on international practice".
Alexey Solodovnikov, Managing director of Uptime Institute in Russia and CIS, says: "We are once again happy that IXcellerate is committed to upholding the value of Uptime Institute's certifications in the Russian market. I wish IXcellerate team success with their new data hall and future-looking projects!"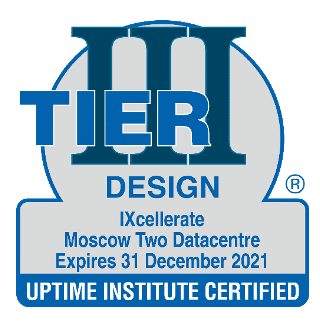 Uptime Institute has been providing customers with the assurance that their digital infrastructure can perform at a level that is consistent with their business needs, across a wide array of operating conditions. With its data center Tier Standard & Certifications, Management & Operations reviews, Efficient IT Stamp of Approval, and accredited educational curriculum for data center professionals, Uptime Institute helps organization optimize critical IT assets while managing costs, resources and efficiency.