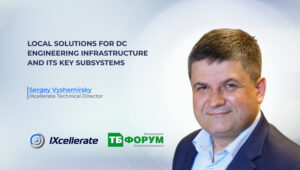 IXcellerate took part in the conference "Data Centers and Data Hubs for Government and Commercial Enterprises".
The event was an integral part of the 28th International Forum and Exhibition of Security Technologies "ST Forum 2023" in Moscow on February 14-16.
Key focus was on the national security and solutions needed to support government and corporate business projects.
The conference addressed issues related to the Data Center construction and modernization, import substitution in a new reality, the equipment delivery time and project implementation, operations outsourcing and the engineering infrastructure migration to local solutions.
IXcellerate team attended the event, delivering the presentation on local solutions for DC engineering infrastructure and its key subsystems. Sergey Vyshemirsky, IXcellerate CTO, was the co-moderator of the conference and core speaker.  Artem Kataraev, Deputy for Automation and Security Systems, had a speaking slot either, he shared practical experience on DC monitoring scope and architecture.