"A great party cannot be ruined; even by the worst weather – as proved by IXcellerate!"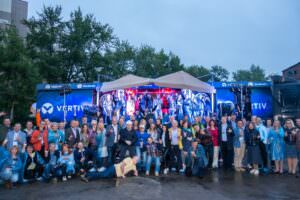 June 27, 2019, leading Russian data center provider, IXcellerate, hosted its main event of the year –  Rockin'Russia open-air festival, dating back to 2013 when the company launched its first data hall.
Despite the cold and rainy weather, the open-air festival at the IXcellerate campus hosted over 250 guests – customers and partners of the company, came to celebrate mutual achievements, share news and listen to live rock music. Over the past six years, Rockin'Russia has become the company's headline event, with growing popularity and international recognition.
2018's Rockin'Russia showcased a new concept: it was no longer just a rock show, but a full-blown themed event. With the countrywide celebrations of FIFA World Cup 2018, IXcellerate brought these celebrations to its Moscow One Campus, which was transformed into a football pitch – and hosted a variety of events and games throughout the day.
In 2019 the chosen theme was 'Global Village', symbolizing the geographical diversity of IXcellerate's data center and its sheer growth. With the event slogan promoting "The newest technologies erasing all boundaries, bringing us closer and turning the world of IXcellerate into one global village".
"To touch the traditions and cultures of many countries and to feel like a 'world's citizen' – this was the motto, conceptualized for Rockin'Russia 2019," says CEO and IXcellerate co-founder Guy Willner. "of course, what unites us all – is music, regardless of where we come from. This is a language we all speak!"
Vertiv, IXcellerate's technological partner, became the global sponsor of Rockin'Russia-2019. Thanks to their efforts, this year's music zone became a giant SOUNDTRUCK: a real truck-transformer turned into a bombastic stage.
The "global village" itself consisted of nine "countries", represented by regional sponsors across various zones. Onlanta invited guests to the German Beerfest with Bavarian beer & pretzels; next to them – a French stand by Legrand, where they treated everyone to the "auteur cocktails"; meanwhile at the Netherlands zone (sponsored by Mastertel) guests burned calories away by exercising on racing bicycles, which powered mini-cars. Technological China, represented by China Telecom, had a virtual reality zone and hosted smart dancing robots.
Russia was represented by two companies: Softline and [DC]2. Traditionally, the cloud provider Softline invited guests to relax in the "space lounge" area with beanbags and shishas, while [DC]2  held a master class "Engineering as an art"  with grisaille drawing by wine and coffee.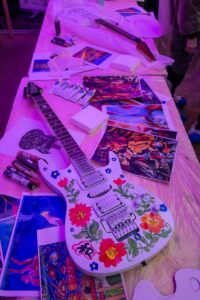 Zeppelin Power Systems added American spirit to the party with beer pong and cornholl. The UK zone was represented by an exhibition of gorgeous electric guitars from the Shamray Guitar workshop, which, in partnership with Netrack, conducted a master class on visual guitar customization, along with a photo zone. In an Irish corner nearby, good folks from Eurasia Peering IX were keeping up the spirits by serving Guinness.
The media partner of the festival, IKS Media magazine, set up the Rockin'Africa zone, presenting a unique photo exhibition from the IKS-journey to Africa, which followed the route of the first Russian expedition to the continent lead by famous poet Nikolai Gumilyov. Nikolay Nosov, a member of the Russian Geographical Society and the columnist at IKS Media, was the chief storyteller about the African continent.
In addition to "regional" and "global" zones, there were also "local" sponsors: Extreme Networks provided guests with the access to free Wi-Fi; Kingston Technologies set up a mobile charging station, and Battery Service sponsored the registration and held a lottery with valuable prizes.
What surely is expected at any Rockin'Russia – is street food, where guests are served by IXcellerate's top management. FOKIN'HOT – a paradise for chili soup lovers, where the South American dish was prepared by Managing Director Dmitry Fokin using 31 types of hot pepper, and Egoroff's Plov – an Uzbek national meal, cooked to perfection by IXcellerate sales director Andrey Egorov.
The live rock co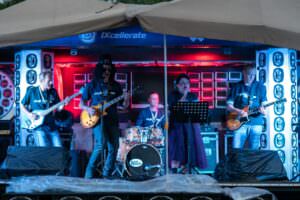 ncert acts as the final countdown of the fest. The show kicked off by the guest singer Marie Nzhipuakuyu with Queen's "We Will Rock You". Next came the headliners: rock band from MSK-IX "One Dazzling Day". The grand act was reserved for the IXcellerate band itself, who together with other invited musicians performed rock hits to the sound of rolling thunder and pouring rain.
Exclusive preview of the new IXcellerate Moscow Two data center was integrated into Rockin'Russia agenda. A new single volume data hall designed for 1480 racks will be launched in July.
Judging by the numerous reviews and photographs that we keep receiving from all those, who attended Rockin'Russia 2019, the bad weather wasn't enough to crush the spirits! So once again – thank you all for your courage! And big thanks to everyone, who made this fantastic event happen.
We'll see you all next year!
Photo report: https://yadi.sk/d/C0w-aJ4CvKZ4_g