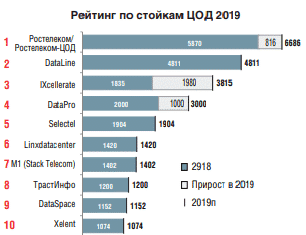 We are delighted to announce that IXcellerate is now third largest commercial data center in Russia according to the rating by iKS -Consulting. The report summarizes the commissioned rack-space capacities of data centers at the end of 2018 and gives a growth forecast for 2019. The rating was announced at the annual Data Center Forum, which took place on September 12 at the Digital October, in Moscow.
This breakthrough for IXcellerate comes with the commissioning of a new data center campus – IXcellerate Moscow Two, featuring a single volume data hall for 1480 racks. The official opening takes place on October 3, 2019. With the new capacities, the total number of commissioned racks is currently 3315, and is expected to grow up to 6500 by the end of 2020. According to the development plan approved in December 2018, IXcellerate will own 25% of the commercial data center market in Russia by 2023.
The rapid development and expansion of IXcellerate began in 2018, after the international investment bank Goldman Sachs invested $15 million in the construction of the 1100-rack expansion for the Moscow One campus. In early 2019, the company has unveiled its five-year development program with a $260 million investment plan, which involves construction and acquisition of up to five additional facilities in Moscow and surrounding regions.
Download Russian Data Center Map with rating results: booklet