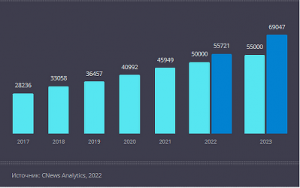 CNews Analytics has published the annual Russian data center market overview. Once again, IXcellerate has been placed among the TOP-3 leading data center service providers, with 4044 racks commissioned by the end of 2021.
According to the study, Russian commercial DC market continues to grow, remaining the key enabler of digital economy. The analysts predict that by 2023 the total capacity of the market will reach at least ~65,000 racks with an annual growth of 10–15%.
Despite the recent events, IXcellerate has maintained all its strategic goals. The power capacity of the company's campuses is continuously increasing, and all the data centers are fully operational. Our newly and soon-to-be opened facilities are capable of colocating high-load equipment serving the ever-growing demand for ultra-dense computing and increased IT load. This year, the company plans to complete the construction of MOS4 data center facility in the Northern campus and commission the second phase of MOS5 in the Southern campus.
You can read the full report here. While you're there, check out the in-depth interview with IXcellerate CEO Andrey Aksenov about the state of the data center market and how Russian colocation providers are coping with the current economic reality.