IXcellerate has once again become a partner of the annual conference "GLOBAL SCHOOL BUSINESS PROJECT AWARD", organized by KinderMBA and the Economics Faculty of the Moscow State University on May 16-23. Due to the COVID-19 pandemic, the event was held online over the course of two days with over 150 schoolchildren from grades 5-11 attending and presenting their business projects.
IXcellerate's Chief Marketing Officer, Dina Nurkaeva, joined the event as a member of the jury for the My Startup and International Business sections (the latter was in English). The participants presented their business ideas, which included a detailed description of the product, financial model, market analysis, as well as a website mock-up and a video. After the presentations, the students had to answer the jury's questions.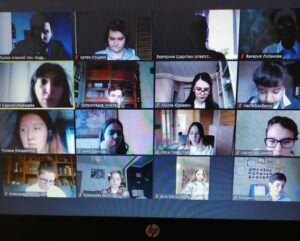 "KinderMBA is a unique project, bringing together smart and talented students. These pro-active young people are future leaders and inventors, who are already today eager to follow their vision and promote their ideas", comments Dina. "The entrepreneurship atmosphere at KinderMBA is unique and very motivating. I am happy to be a part of this сontest's jury for several years now along with other experts from leading Russian and international companies, including SAP, IKEA, Megafon, Raiffeisen Bank, Gazprombank, Philips and many others".
Following the tradition, CEO and co-founder of IXcellerate Guy Willner will invite the winning teams to a business breakfast (this time in Zoom) to discuss their projects and exchange life stories. Once the quarantine is over, we will bring the youngsters over to our campus for a data center tour.