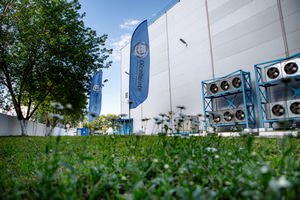 February 13, 2020. Moscow-London. IXcellerate, the leading operator of commercial data centers and the home of hypercloud in Russia, announces its 2019 revenues were up almost by 30% on 2018, which propelled the company to the top 2 position on the Russian market behind flag carrier Rostelecom. IXcellerate growth rates are 50% higher than market average1 due to a number of major hypercloud deals signed during the year.
These outstanding business results were driven by significant investment in new capacity in Moscow, big customer wins and the best connectivity offering in country through the company's Eurasia Peering Internet exchange platform. IXcellerate Moscow Two Datacentre was built in a record time of 6 months and launched on October 3, 2019. The opening ceremony was officiated by HRH Prince Michael of Kent 2(a Russian-speaking Romanov descendant and Patron of the Russo-British Chamber of Commerce). Three months after, almost 90% of capacity had been contracted by current and new customers. This second data hall on IXcellerate's 300,000ft² campus has achieved Tier III Design Certification from Uptime Institute3.
2019 Highlights:
Revenues up

29.4

% YoY

3 international hypercloud players signed, including Tencent Cloud and Huawei

Connectivity available from 51 carriers with access opportunity to the cloud ecosystem of 30+ providers

Inhouse traffic exchange platform (Eurasia Peering IX) doubled the peer base again (100+ members) and

now regulalrly exceeds the

1

5

0Gb traffic mark
Guy Willner, CEO and co-founder of IXcellerate: "Our excellent team executed on-plan the first part of our 5-year $260M expansion program for the Russian Federation4, aiming to win 25% of the local market by 2023. Today, our company remains focused on its original mission – to build a network of the most powerful and advanced data centers in Russia, with the best technology, customer service and team. IXcellerate is ready for this rapid growth and plans at least one new hypercloud-ready campus in 2020".