Dear customers and visitors of the IXcellerate data centers!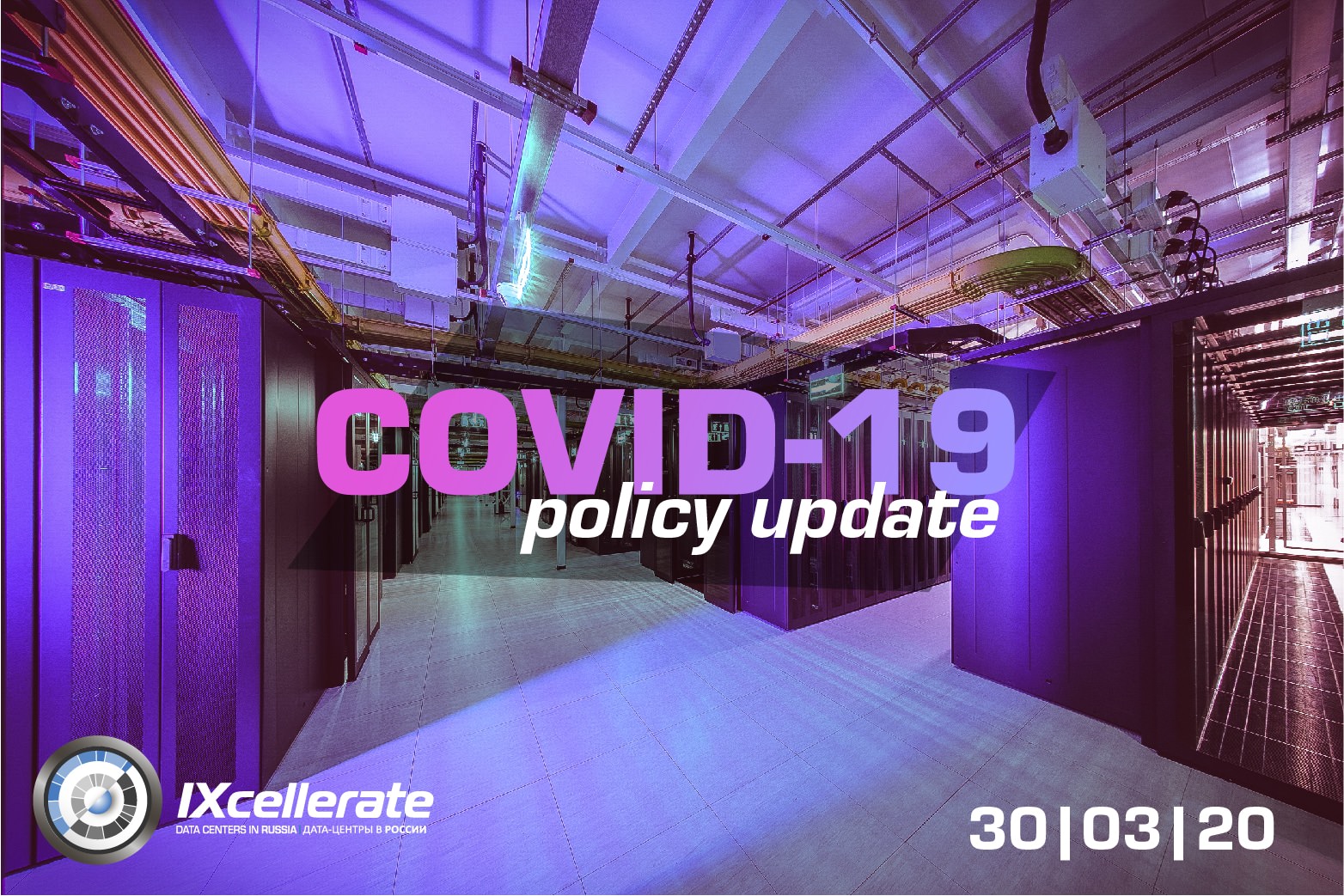 We inform you that IXcellerate is introducing additional measures to combat the spread of COVID-19 coronavirus infection in the Russian Federation. These steps are taken strictly in order to ensure people's safety and to minimize disruption of the data centers' services, as well as to comply with latest government regulations, also aimed to minimize social contacts.
We confirm that up to date there has not been a single case of COVID-19 infection among IXcellerate employees or data center visitors. All IXcellerate facilities are fully operational and Business Continuity Plans are activated. We have created a stockpile of the sanitation products and formed a reserve of critical materials, spare parts and tools on campus. The technical department's staff works in distributed teams and operates per autonomous shift-based work schedule.
In accordance with Presidential Decree No. 206 dated from March 25, 2020 "On the Declaration of Non-Working Days in the Russian Federation", with the decision of the Mayor of Moscow dated from March 29, 2020, as well as in alignment with previous decisions of the IXcellerate's management the following admission and work permit guidance is introduced, starting as of immediately and ending on April 30, 2020:
1. For all visitors – IXcellerate campus, including all buildings and the territories adjacent to them, can be accessed only in case of a prior admission request, submitted no less than 24 hours in advance. The request should contain visitor's passport data, travel information to countries with an unfavorable epidemiological situation over the past 14 days, and the copy of the Employer's Order (internal document) with the list of employees, who are eligible and in charge of the continuity of the company's production cycle and operations.
2. For the specified period of time – access to the campus and to the data halls for installation works, as well as for the delivery of equipment for customers and their contractors will not be allowed.
3. IXcellerate customer service team is ready to process inbound inquiries and deliver Remote Hands services based on requests, submitted through the Zendesk client portal. The Remote Hands service catalogue is listed under the corresponding Appendix to the contract (MSA).
4. During March 31 – April 30, 2020 only authorized customer representatives will be allowed to access the data center campus and the data halls, who are arriving to maintain/service existing equipment and/or software and install cross-connects in accordance with requests submitted via Zendesk client portal. The total number of client's representatives cannot exceed two persons working simultaneously, keeping a mandatory safe distance of at least 1.5 meters from each other and other people.
5. Client's representatives must wear protective gloves and masks (medical quality). At the campus entrance all visitors and employees are required to undergo daily temperature check (contactless) and get special instructions from the designated medical personnel. If the temperature is normal, they will receive an individual color-coded bracelet which they should keep for the rest of their visit that day.
6. If any respiratory symptoms and/or fever are detected, the visitor and/or employee will be advised to leave the campus and immediately seek medical assistance at home without visiting medical organizations.
We kindly ask you to minimize your data center visits during March 31 – April 30, 2020.
We thank you for your understanding and we will do our best to fulfill your requests within an acceptable timeframe given the current circumstances.
Our first priority is to ensure safety of IXcellerate employees and customers, including their representatives and subcontractors. The above steps and measures are taken to follow through on these priorities.
If you have questions or want to suggest additional safety measures during these challenging times, please send them to csm@ixcellerate.ru.
Please check the Covid-19 section at our website for all further updates:
COVID-19: prolongation of anti-virus measures at IXcellerate facilities
Stay safe!
Yours faithfully,
IXcellerate Team