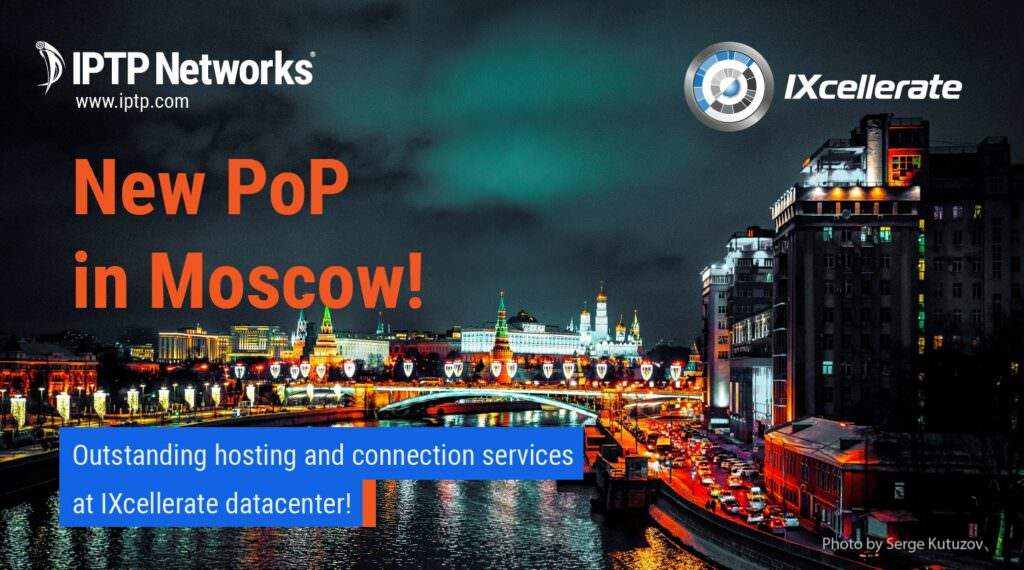 In February 2020 IPTP Networks has deployed a new fully operational point of presence at Moscow in partnership with a leading commercial data center operator in Russia – IXcellerate.
High demand for quality hosting/colocation services inspires IPTP Networks to launch its services at the new, most technically advanced facility in Russia — IXCELLERATE MOSCOW ONE DATACENTRE.
The partnership with IXcellerate will help IPTP Networks to provide a wider range of services in Moscow and will help to expand overall presence on the growing IT market in Russia. From now on IPTP Networks can offer global services in one of the most advanced Tier III datacenter in Moscow. Such high quality services as global Connectivity, Dedicated Hosting, Colocation and System Integration will be available to all customers.
Valery Chigirev, Business Development Manager: "When we decided to expand our capacities in Moscow our first thought of a partner was IXcellerate. Nowadays IXcellerate is a fast-developing and the most successful data center facility in Russia, which means that their ability to grow and cooperate stands on the same path as ours. Moreover, IXcellerate datacenter allows us not only establish our PoP, but also to provide our best services, such as global connectivity, different types of remote and integration services, on a high-quality level and on the most convenient partnership terms"
Additionally, IPTP Networks is joining affiliated Eurasia Peering Internet Exchange, which is significantly improving its connection with major peering partners in Russia.