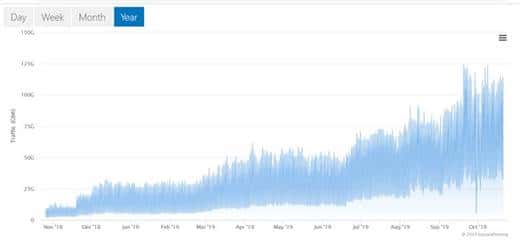 October 21, 2019. Moscow-London. IXcellerate, the top-3 commercial data center operator in Russia, has launched its third Eurasia Peering IX point of presence in Frankfurt. The new platform will optimize traffic exchange between Russian and international peers, granting local companies in Moscow access under existing contracts to more international peers, including large-scale cloud providers. The Eurasia Peering platform offers connectivity solutions to retail, telecom, internet, fintech companies and top content generators. Eurasia Peering IX is an ideal partner for firms that operate on the Russian market or aim to enter it.
Eurasia Peering IX traffic has grown ten times since January 2019 and, with now almost 100 members of its peering platform, the amount of data transmitted through Eurasia Peering IX has surpassed that of the main Finland and Romania exchanges, with its peak traffic volumes reaching 125 gigabits/sec. All peers can extract tremendous benefits from participation in the platform, including cost saving and optimized traffic speed. Taking into account the average traffic volume costs in Moscow, the total yearly savings of all peers is estimated to exceed EUR500,000.
In September 2019, InData, Russian non-profit internet analytical service, joined the platform. InData collects and analyzes information about the work of the Russian segment of the internet (RuNet). The collaboration between Eurasia Peering IX and InData is strictly non-profit, based solely on the goal to study RuNet. The presence of InData in the IXcellerate peering ecosystem enables other platform members to monitor and troubleshoot routing problems through IP addresses, as well as collect additional traffic information.
Guy Wilner, CEO of IXcellerate: "The rapid growth of our peering platform and launching a new point of presence in Frankfurt helps IXcellerate to progress towards becoming a gateway to Russia for all businesses, interested in the largest internet market in Europe. We now have outstanding connectivity and more peering in both traffic and locations. Within a country as big as Russia, serious players must have dual-operator peering and multiple traffic exchange routes and we're happy to be their choice.".
Yaroslav Gorodetskiy, CEO of CDNvideo, the leading Russian CDN and Eurasia Peering IX's user, said: "We applaud this move as it brings the Russia and West Europe markets ever-closer allowing easier access in both directions."
The Eurasia Peering IX platform is included in the Public Registry of Communications and Broadcasting Infrastructure of Russian Federation. It is a member of RIPE Network Coordination Centre and PeeringDB international database.
Visit www.ixcellerate.com for more information or contact Chief Marketing Officer at IXcellerate, Dina Nurkaeva, via dn@ixcellerate.ru, +7 915-2348530.
Company information
Eurasia Peering IX is an independent traffic exchange platform with points of presence in Russia and Germany. The platform provides access to an ever-growing customer base and offers ports of 1, 10, 25, 40 and 100Gb capacity with a maximum overall capacity of up to 3.5 Tbps. A member of the global Internet RIPE registry and the international database PeeringDB. www.eurasiapeering.com
InData is a non-profit research service focused on aggregating data from the Internet. This service collects information on available autonomous RuNet systems and the number of available prefixes, while also detecting route leaks, building connectivity graphs and visualizing general statistics of the Russian Internet segment. https://www.ididb.ru