20.03.2015, Compare the Cloud.net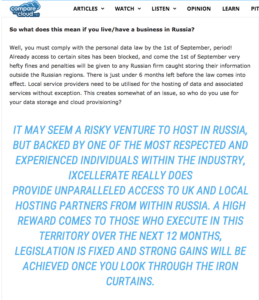 There has been much speculation surrounding Russia recently, particularly in regards to regulations on data. However, the changing country-based rules surrounding Russian data sovereignty make very interesting reading, especially if you are a cloud service provider.
RAPSI News reported the following on the situation in Russia in September 2014: 
In December 2014, the lower house of the Russian parliament adopted amendments making it mandatory for personal data to be stored on domestic servers by September 2015 – instead of September 2016 as previously foreseen by legislation.
A law requiring internet companies to store personal data of Russian nationals within the country's borders will take effect on September 1st 2015, according to the bill passed by Russia's upper house of parliament, the Federation Council.
In July 2014, President Vladimir Putin signed a law obliging foreign online companies that sell plane tickets and consumer goods in Russia, as well as social networking sites, to store Russian personal data only in Russia.
Foreign companies such as social media giants Twitter and Facebook; as well as highly trafficked travel websites like Booking.com will have to open offices in Russia to be able to continue offering their services to Russian residents.
In October 2015, the Foreign Investment Advisory Council (FIAC) asked Prime Minister Dmitry Medvedev to amend the data storage law. FIAC had one primary motive – to suspend the bill that would change the date from September 1st 2016, to January 1st 2015. They succeeded in their request, and henceforth the 2015 has been settled on. The extra 8 months is key for FIAC to be able to adjust country-wide in house provisions in time for the bill to come into play.
Apart from additional spending that could run into the tens of millions of euros, this could lead to the closure of law-abiding companies, the investors said. The lawmakers after the consultations with the companies decided to move the date for the enforcement of the law to September 1st 2015.
Concluding RAPSI's original reports, we can see that initially, the law was to take effect on September 1st 2016, but after a motion to bring the date forwards to January 1st 2015 was stopped by FIAC, a mid-way date of September 1st 2015 was set. This is the date we are now looking towards.
From February 2015, RAPSI issued further updates on the situation in Russia: 
In 2014, Russian communications regulator Roskomnadzor filed 28 claims with the courts to block 96 websites. On Thursday 12th February 2015 it was announced that access to over 60 websites would be blocked for violations of legislation on personal data. The order to close the websites was passed on January 29th by Moscow's Simonovsky District Court at the request of the regulator. This was finalised, and came into effect on March 1st 2015.
So what does this mean if you live/have a business in Russia?
Well, you must comply with the personal data law by the 1st of September, period! Already access to certain sites has been blocked, and come the 1st of September very hefty fines and penalties will be given to any Russian firm caught storing their information outside the Russian regions. There is just under 6 months left before the law comes into effect. Local service providers need to be utilised for the hosting of data and associated services without exception. This creates somewhat of an issue, so who do you use for your data storage and cloud provisioning?
IT MAY SEEM A RISKY VENTURE TO HOST IN RUSSIA, BUT BACKED BY ONE OF THE MOST RESPECTED AND EXPERIENCED INDIVIDUALS WITHIN THE INDUSTRY, IXCELLERATE REALLY DOES PROVIDE UNPARALLELED ACCESS TO UK AND LOCAL HOSTING PARTNERS FROM WITHIN RUSSIA. A HIGH REWARD COMES TO THOSE WHO EXECUTE IN THIS TERRITORY OVER THE NEXT 12 MONTHS, LEGISLATION IS FIXED AND STRONG GAINS WILL BE ACHIEVED ONCE YOU LOOK THROUGH THE IRON CURTAINS.
In Russia, the service provider market place is inherently different from the rest of the world. There are very few MSPs operating, and the limited service providers who are operating are extremely large due to the nature of the way businesses is conducted.
IXcellerate are unique to the Russian market, backed with strong UK ties and immense experience from founder Guy Willner, the co-founder and former CEO of IXEurope, and former President of Europe for Equinix Inc.
The IXcellerate Tier 3+ Moscow One data centre opened in 2012.  A stand alone data centre located within the MKAD ring road of Moscow, set over a 15,000m² campus. IXcellerate Moscow One provides a bespoke solution aimed towards fulfilling clients' unique data centre requirements. Unparalleled as a carrier neutral data centre operator in Moscow, IXcellerate's Moscow One is comparable to the quality of data centres in America and Western Europe It offers co-location services including private and secure cages, combined with on-hand technical support 24 hours a day, all year round.
Russia is the land of opportunity for hosting providers, even with forced legislation based around data sovereignty. It may seem a risky venture to host in Russia, but backed by one of the most respected and experienced individuals within the industry, IXcellerate really does provide unparalleled access to UK and local hosting partners from within Russia. A high reward comes to those who execute in this territory over the next 12 months, legislation is fixed and strong gains will be achieved once you look through the iron curtains.
Further information is available at Compare the Cloud.