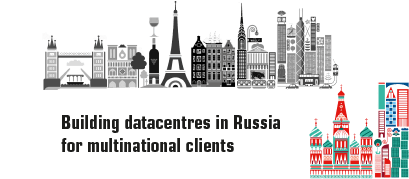 29 Oct 2013 | Moscow, Russia
We will be exhibiting at DatacentreDynamics Moscow.
Mike Segal, Commercial Director, will be speaking in hall 2 at 15.45 on the keynote: Building Datacentres in Russia for Multinational Clients – On the Ground Experience:
– Opportunity: Datacentre Business Models
– Market Overview: The Russian Datacentre Market
– Check-list: Case Study of IXcellerate's Adventure
– Risks: Common Issues with New Datacentres in Moscow
– Reflection: What does the Future for Datacentres in Moscow and Russia hold?
Mike will also be participating on the panel discussion: Implementing an Outsourcing Strategy that Meets Your Mission-Ciritical Requirements, alongside Sergey Makedonsky (President, Association for Strategic Outsourcing in Russia 'Astra'), Ekaterina Kukanova (Director, Linkxdatacenter St Petersburg), and Andrey Kelmanzon (President, CIO4U).
We look forward to seeing you at DCD Moscow.