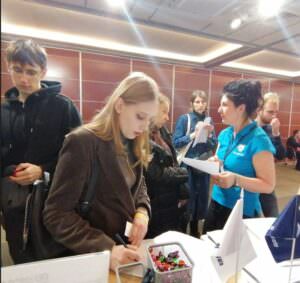 A two-day event, Career Expo, was held early February in Moscow to connect hundreds of undergraduates and graduates from colleges and universities with potential employers.
IXcellerate as one of the exhibitors introduced the company and made a presentation on what is a data center and why it is critical to national digital economy. We advertised our open vacancies and motivated young talents to apply for internship in marketing, sales and finance departments.
Truly interested students asked endless questions, as evidenced by all the business cards and souvenirs handled out, as well as about 200 recruitment forms collected. Great efforts for future growth! Follow our news and subscribe to IXcellerate Telegram channel!