Anna Golubova
Senior Sales Manager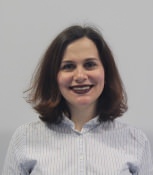 As Senior Sales Manager, at IXcellerate Anna is in charge of sales and business development in China and other countries within the Asia Pacific region (APAC).
 Anna's extensive international experience includes heading Russia and CIS sales at RL Industry in Ningbo (China) for 2 years and the APAC sales operations at iDeals Solutions Group, being based at the Hong Kong office of the company.
 Master in Chinese studies from The Institute of African and Asian studies at Lomonosov Moscow State University and Peking University. She speaks fluent Chinese Mandarin and English.
Anna is the author of "Chinese: Self-tutor" and "Chinese: Correspondence" workbooks.