06.08.2015, Aleksandra Krylova, IKS-media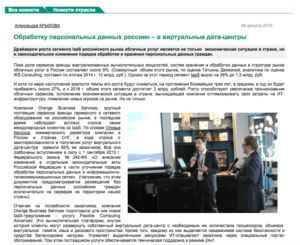 Orange Business Services has announces the release of a new IaaS platform called Flexible Computing Advance as a response to a growing demand from its clients. Within this new computing platform customers can deploy their own virtual data centre with the necessary number of processors, amount of virtual memory, cache and disk space.
The system, which is based on a cloud virtual platform has been in-house developed by Orange Business Services themselves. It is already being used to service OBS customers in Singapore, Sydney and Hong Kong. In order to stay compliant and operate the system in Russia OBS has already received all of the required local certifications such as FSC and FSTEC. The physical equipment making sure of the smooth running of the FCA is installed at IXcellerate Moscow One Datacentre, a Tier 3+ facility located in the north of Moscow. Both busineses are also tied by the Partner Agreement in which IXcellerate is able to offer Flexible Computing Advanced to its clients, many of which include financial organizations, multinationals and telecommunication providers.
Further information is available at IKS-media website.